Plastic Bar Bin Trolleys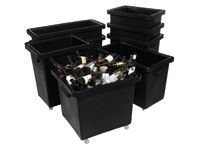 from £67.91 ex VAT
5 variants of this product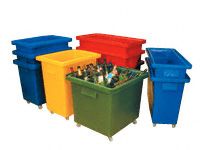 from £79.04 ex VAT
35 variants of this product
Plastic Bar Bin Trolleys for Workplace Efficiency
Whether you operate a bar, restaurant, hotel or any other type of hospitality venue, it's likely that you'll need plastic bar bin trolleys to keep your bar waste organised and clear of items that could pose a hazard to your staff and customers. As well as being utilised in catering and hospitality environments, these plastic trolleys are also found across a variety of manufacturing and industrial environments. They're popular due to their efficiency in moving waste and materials from one place to another and their lightweight style is as useful to a factory as it is to a restaurant or bar.
Benefits of Our Plastic Bar Bin Trolleys
Our range of bottle bar bin trolleys are manufactured from lightweight polyethylene that ensures the barbin can be moved around with ease. The load held by the bin is up to 45kg and so it's important that the barbin itself is lightweight and functional. While some plastic bar bin receptacles are designed to be lifted by employees, the wheels on these plastic bar bin trolleys allow them to be moved easily and without operatives potentially hurting themselves. They are also nestable, ensuring that they can be stored easily when not in use, and have moulded handles to allow them to be lifted simply. We also offer 100% recycled polyethylene trolleys. If you work in a hospitality venue, you can partner up your Bar Bottle Bin with a Food Grade Trolley, to ensure the safe transportation of food items.
Colour Coordinated for Health and Safety
Our barbin options come in various sizes and many come in different colours too. This allows your pub or restaurant to adhere to any health and safety regulations your company may have about the separation of items. For instance, anything that poses a health risk such as broken glass can be disposed of in one barbin while solid glass can be disposed of in another. These plastic bar bin trolleys improve the efficiency of any hospitality or manufacturing environment by allowing employees to easily recognise what they're working with, whether that's a barbin designated for bottles, cans or broken glass.