Wall retractable belt barrier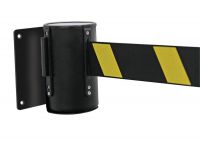 from £42.56 ex VAT
1 variant of this product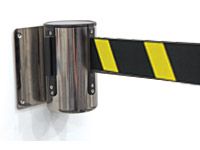 from £39.20 ex VAT
1 variant of this product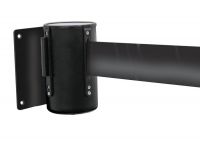 from £39.20 ex VAT
1 variant of this product
What is the purpose of a Wall Retractable Belt Barrier?
Wall mounted retractable belt barriers are ideal when areas need to be segregated at specific times to ensure safety or smooth running of a facility. A wall mounted belt barrier can be fixed securely to a wall, with the belt stretching to either another wall or another post. These are fastened and provide a visible and tangible barrier between two areas. The simple retraction facility of wall mounted retractable belt barriers ensures that the barriers can be brought into action quickly and without heavy equipment being relocated from elsewhere in the building. A wall mounted retractable barrier is a must for busy environments that occasionally need to separate specific areas.
Where can this product be used?
You'll find wall mounted retractable belt barriers in various environments. For instance, within industrial settings, they are often fixed in place to allow deployment when a certain task is underway. The barrier is easily brought across and people are automatically warned they cannot enter that location, or pointing them in the direction to queue. Equally, retractable barriers are mounted on walls in some cinemas and retail locations, either complement post barrier queuing systems. Orderly and safe queues are vital for the smooth running of any busy retail business and deploying a wall mounted belt barrier at the right time can ensure the safety of all staff and customers. 
Who might use this product?
Any site or retail manager looking for a solution to maintain separate areas within a working environment will find a use for wall mounted retractable belt barriers. The queue barriers are easily installed and can be securely fixed for optimum safety. Because of the flexible nature of the barrier, they can be used up to a given length rather than having to cover a space of that size. This is a huge improvement on other forms of barriers which may only cover a small area and leave space for people to move through into the restricted area. A wall mounted belt barrier can be an important and economical improvement for various locations as well as being an essential for crowd control. 
Wall Retractable Belt Barrier System Specifications 
Materials: Chrome housing 
Colour: Black or black and yellow belt options
Length: 2.3m – 3.6m