Flammable Liquid Storage Cabinets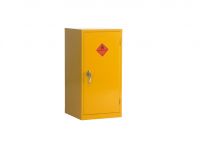 from £181.44 ex VAT
4 variants of this product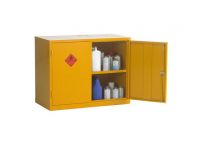 from £228.61 ex VAT
3 variants of this product
Flammable Liquid Storage Cabinets Ensure Workplace Safety
Flammable substances pose a risk to any company, making fully compliant flammable liquid storage cabinets a vital component of life in industrial sectors and beyond. Whether you operate outdoor or indoor, your workplace must be health and safety compliant, and that includes effective flammable storage solutions. These flammable substances can't be stored alongside other non-flammable industrial liquids because they require special storage conditions to ensure they don't ignite, leak or cause a hazard in any other way - this would be risk assessment nightmare. Our range of flammable liquid storage cupboards are a key piece of hazardous storage equipment and can be the difference between safety compliant and putting your team in danger. 
Locking Capabilities of a Small Flammable Liquid Storage Cabinet
Even with non-industrial locations such as schools and hospitals, there is often the need for indoor cleaning materials that are flammable and hazardous. Safe and small storage locations for these materials are crucial to maintain the safety of everyone, but large flammable liquid storage cupboards may be inappropriate. Opting for a small flammable liquid storage cabinet will ensure that any flammable substances are contained within a locking unit that isn't accessible to either colleagues or guests. Without these locking capabilities, the safety of a site is jeopardised, and that's where some imitation flammable cabinets fail. 
Choosing an Outdoor Flammable Liquid Storage Cabinet
An outdoor flammable liquid storage cabinet must fulfil several functions. As well as being lockable and containing the right amount of space for the flammable liquids in need of storage, it must also be highly visible. The yellow colour of our storage cupboards ensures that they are easy to see and that they're compliant with the recognised standard of industrial colour coordination. Yellow is synonymous with flammable cabinets, as too are the warning hazard signs which come with our flammable liquid storage cabinets by default.